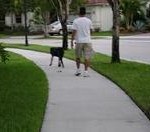 Weston Dog Walking Service – Mid Day Walks:
Give your dog and yourself a break! Tired of rushing home at lunch or right after work to walk your dog in the heat with your business attire on? Have the professionals at Pet Sitting At Weston come walk your dog instead! We can give your dog 15-20 minutes of exercise and play, to help keep them healthy and happy. We can feed and give them any medication they need . Our Mid Day walks can be set up any time of day between, 7 AM – 8 PM as needed, or on a permanent schedule. We offer a discount for daily walks if you have a set schedule of 3 visits or more per week.
1 Regular visit per day $18
1 Daily Mid-day walk $15 (Save $3) Minimum 3 visits per week
Regular visits:
These visits are typically the most common choice for when you are out of town for business or pleasure, but can be customized to fit your needs, whatever they may be. Each visit is 20 minutes, and we can do as many as 4 visits per day. Visit includes the following: walk or back yard time, playtime, feeding, cleaning any accidents , medication, picking up mail & newspapers, alternating lights & blinds, watering plants, TV or radio on and  off and whatever else you may need during our visit.