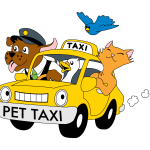 Weston Pet Taxi Service:
Veterinarians and groomers are usually open and most flexible on weekdays, so how do you find time to get your pets in for their appointments while you are stuck at work or dealing with your kids busy schedules?
Most people have to take time away from business or school and take their pets themselves. Thus causing you to miss out on valuable hours at work and commuting, causing stress or even worse missing out on classes or even your kids baseball, softball or football games.
For our Pet Taxi Service, we will transport your pet to the vet, groomer or wherever they need to go, either by appointment or in an emergency. We are happy to even run by the pet store store if you run out of food, litter, pet medications or other pet supplies while you are out of town, or if you simply just don't have time.
We charge a small shopping fee, plus the cost of supplies.